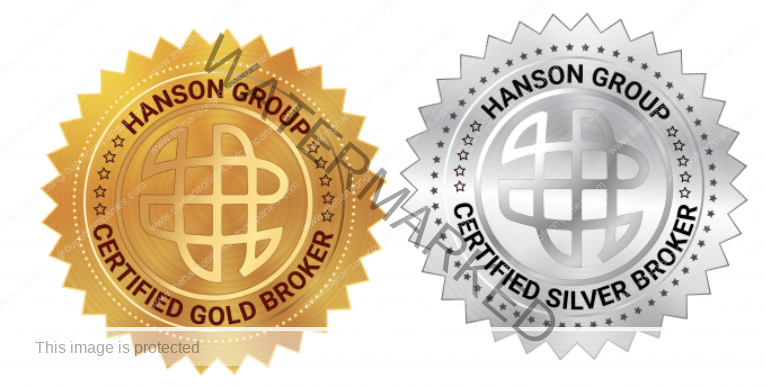 Below you will find a list of our certify Silver & Gold brokers that has exceeded all the required standards for this registration and is formally recognized as a valued Member of The Hanson Group of Companies team.
IMPORTANT: If you would like be a Silver or Gold Certified Broker and Listed on this Page Click Here!
Contact Name
Company Name
Broker Level
Lisence Expiration Date
Country
Adriana Suarez Suarez
Individual
28 March 2026
Alan Edward Sadd
Individual
Ali .B .A Aqel
Lord Zi International Dwc. LLC.
Anthony Depnarine Gosine
Individual
07 February 2022
Arlus Daniel Jr.
Image Financial, INC.
Arturs Udris
Individual
30 August 2025
Bartolomeo Monno
Individual
21 January 2025
Bernard Gerald Seebach
Bernard Seebach Private Wealth Links
Bryan Olano Gamboa
Golden Tri-Quad Dragon Corporation
Cesar R. Nieto
Berghusen
Berghusen Group, LTD.
2 February 2023
Cesare Fussone
Global Capital Finance LTD.
01 October 2021
Clinton John Rotteveel
Individual
16 February 2026
Cocouvi Amoussou
Individual
20 June 2025
Craig Ryan Faller
Memorandum Consulting LTD
02 September 2021
Danilo Magenta
Senatus Luxembourg, S.A.
Darryl Eugene Spencer
Individual
22 October 2025
Deborah Regina Franciscon
Individual
Dervan Valentine Lewis Cox
Individual
01 September 2021
Drazen Maric
Individual
Elyamna Amri
Individual
Emanuel Mc Chesney George
Individual
20 May 2022
Ganesan Anantha Narayanan
Anray Consultancy
GEJ Unternehmensberatung
Guenther Eduard Jenke
Glenn R. Callaha
Individual
Hanuman Mal Sethia
Max Capital Designers
Herman Neo
Neo Consulting Group, INC.
26 June 2025
Homer Lynn McKenzie
Individual
09 February 2022
Hsueh-Jen Cheng
Individual
Inma Fornoza
Falco Global Universe, S.L.
13 March 2024
Ivel Turner
Oasis Capital Ventures, LLC.
25 July 2024
John Edward Giarmarco
Individual
20 November 2024
John William Kirwan
Individual
Joseph Macandrew
Individual
Joshua A. Okhae
Extramark Limited
Kamal Egbo
Individual
Kelly Nikeya Sharron
Kelly Scarlett Associates Inc.
18 June 2025
Kossi Toulassi
Individual
Lekendrick Terrance Wright
Wright Capitol Solutions, LLC.
20 April 2026
Lewis Val Silbert
Global Commercial Capital Investment Group, LLC.
24 January 2025
Mahbubul Alam
Individual
Malosi Taeleifi
Individual
10 September 2021
Manuel Lozano Carabali
Individual
11 February 2022
Michael Chapman
Individual
03 February 2022
Nageswaran Narayanaswamy
Basis Points Consultancy Services (OPC) P Ltd
Ng Han Yi Jason
Individual
Nwanguma Ugochukw
Individual
26 April 2021
Olivier Abrahamson Lokolomba
Azriel Consolidated Pty LTD.